definitely a fun way to take the edge off the first monday of the new year.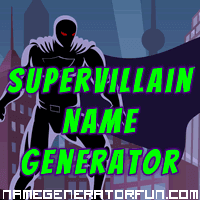 Struck by lightning as a child while trying to escape the deadliest twister to ever strike Kansas, you fell into a coma and awoke with strange new abilities! Now, nothing and nobody can prevent you from becoming a criminal mastermind!
Electrical Blast
– You can soak up massive amounts of electricity, and then release it in a concussive blast of energy!
Now, with the aid of your trusty henchman Stilleto and your army of child gangsters, you bring terror and chaos to the streets of Budapest!
Get your own supervillain name from the supervillain name generator!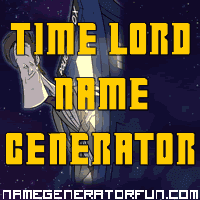 Your original Gallifreyan name is Torlorkalamorphfroli, or Torlor for short. Back on Gallifrey, you led a dull and uninteresting life, working as an Assistant Manager at the Institute of Temporal Misunderstandings, based in the Capitol – but now, you travel Time and Space in search of adventure!
Your Type 80 TARDIS is currently stuck in disguise as a 1970s orbital communication satellite, and your latest travelling companion is a rich heiress from the 1920s whose usual approach to problems is throwing money at them.
Get your own time lord name from the time lord name generator!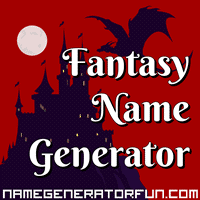 Rani of the Great Rain
She began her journey as a rough hunter.
She made her way to the Great Rain after many misadventures,
one of which involved a dogmatic forest and an animated bird.
Get your own fantasy name from the fantasy name generator!